'71 Dead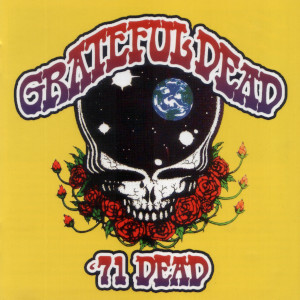 A compilation album by GRATEFUL DEAD released in 2017.
This is a box set with roughly 22 hours of music on 21 CDs, seven shows recorded in 1971:
This seems to be an ``unofficial'' release. I didn't realize that until after buying the box (apparently it's still a legal release within EU), although I was quite suprised of the low price given the volume of music. It was surely a bargain.
All shows are radio recordings. The sound and mix quality is (mostly) excellent throughout. Cannot always say if shows have been recorded from air (FM broadcasts) or from the original source tapes used when broadcasting. But on some shows you can hear the annoucer speaking over.
Discs 1 - 3 have The Fillmore East show from 2nd July. Sound is nice and good old vintage DEAD. On stage we have the relaxed 1971 band. Having only BILL KREUTZMANN on drums their sound developed into a more jazzier direction (the second drummer MICKEY HART took a break from the band during this era). With also a PIGPEN number or two in there, we get also some bluesy stuff and crowd ``party'' favourites such as Hard To Handle and Good Lovin'. On the ballad side Sing Me Back Home is always welcome. It was usual for them to end shows with some epic jamming medleys, and this time we get Not Fade Away -> Goin' Down The Road -> Not Fade Away.
With discs 4 - 6, we go to Minnesota. It's already October and PIGPEN is sick and away. But we have KEITH GODCHAUX on piano, making sound even more jazzier. The first part is full of gems. They start the show with easy going Bertha and Me And My Uncle; then a lovely Sugaree, and the magic of DEAD playing finally starts to manifest... Country/folkish Cumberland Blues is always a highlight. Tennessee Jed is surprislingly fast in tempo. Black Peter fades in and resets back to mellow mood. Jack Straw is excellent; Brown-Eyed Women likewise. Comes A Time completes the first disc nicely. Also the second disc has strong emphasis on the ballad/songwriting side, with Ramble On Rose, Me And Bobby McGee and Brokedown Palace being the highlights. The third disc is heavy on jammin' side focusing around The Other One. Still, we get also a nice ballad too, Wharf Rat, as well as couple of other ``normal''songs before the usual Not Fade Away -> Goin' Down The Road ending.
Next stop is Cincinnati, late October, discs 7 - 9. Yes, the sleeve says Cleveland but this is where bootlegs usually fail: small details and proper research. According to ``official'' sources Taft Auditorium show took place in Cincinnati. Anyway, this is a minor flaw. The music is still good. The set list is pretty predictable given the two previous shows. El Paso is the only ``new'' song we get. On the disc 7 recording is not exactly a perfect one as you can hear clitches and pops every now and then. Jack Straw is however again highly excellent...
Discs 10 - 12 have a show from San Francisco. So the band is now close to their home neighbourhood, and based on the chatter and banter they seem to be pretty relaxed and having fun. They also suffer from some technical issues so there is plenty of dead air at the beginning. Some minor tape cuts again as well. But once they start playing it's all good. The set list continues to be pretty predictable, but there's also a some kind of rarity in there as well: a FREDDIE KING instrumental Hideaway. Later in the set we get Dark Star, previously unheard on this box set. Also a bit unusual (and great!) is to hear Me And My Uncle in middle of the The Other One...
And in December PIGPEN is back! Discs 13 - 15 have a show from New York. Again the basic set keeps featuring pretty much the same stuff. But also we get rarities like when JERRY GARCIA sings I Washed My Hands In Muddy Water on the first disc (probably for the first and last time forever?). And PIGPEN gets to prove his vital signs with Big Boss Man, Mr. Charlie, Next Time You See Me, and It Hurts Me Too at least. Damn they were such a good band in those days with so many different talents and musical styles. When listening to this box set I came to find many ``new'' songs which I have been somewhat ignoring in the past. Comes A Time is such an example. Somehow I like the version from this show, although the arrangement is quite simple and almost awkwardly slow.
December continues in St. Louis with discs 16 - 18. Good times and good playing as usual but not much new to report, except a PIGPEN rarity Christmas song Run Rudolph Run. He does good job also on Good Lovin' etc. Respect!
The final show (discs 19 - 21) is the New Year's Eve show from Winterland Again the band is on semi-fire, already on the starter, Dancin' In The Street. Is that PIGPEN going wild in the middle? In any case next he's delivering a perfect Mr. Charlie next. A nice first set continues, and in the second we get Playin' In The Band and other regular stuff ("Truckin'" gets already almost boring, but we get a rockin' "Big River") to conclude with. And in the final moments we get again a ``new'' song for these shows, a nice blues number The Same Thing.
While this release is an ``unofficial'' one, it's still very nicely put together, with some nice art work and liner notes too. It's definitely not a rip off and people behind this obviously had love for the music. So nothing prevents me from recommending this to anyone liking THE DEAD. I already look forward to listen to this box set and these shows again and again...
---
Last updated: 2023-11-17 14:41 (EET)