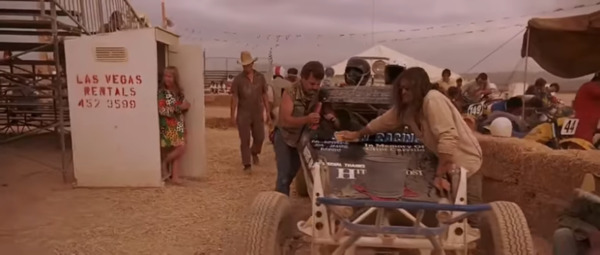 Aaro Koskinen's home page
"Let the good times roll."
What's happening?
Wednesday, 2023-11-15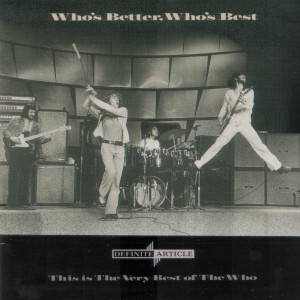 A compilation album by THE WHO released in 1988.
My first proper introduction to THE WHO was this compilation album some time in the late 1980s or early 1990s. I was listening mostly to PINK FLOYD and LED ZEPPELIN, and wanted to check out some other legendary 1970s bands as well. I absolutely fell in love with the band's songs and sound, and kept playing this album over and over for weeks.
Some time after I was an aspiring record collector and a musical highbrow who thought that all compilations are crap and one should listen to the full original albums only. Which I did. And I after getting all their proper albums, I sold away this compilation...
While THE WHO made a couple pretty damn strong albums (notably Tommy, Quadrophenia and "Who's Next"), you still have to admit that they were a ``singles band'' as well (I wanted to say ``mostly'', but I don't want to upset PETE TOWNSHEND unnecessarily). And for such bands ``greatest hits'' compilations such as this are justified. Which is why I rebought this album couple decades after, and now listen it to probably more than any other THE WHO record. Not a single bad or filler song in there. And you have to respect the production, editing and mastering work on this compilation as well - it sounds a real solid piece of work and you won't even notice the recordings date from three different decades.
This is the very best of THE WHO.
Saturday, 2023-11-11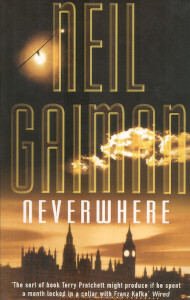 A book by NEIL GAIMAN published in 1996.
One of the best travel books ever written! During late 1990s and early 2000s I made few trips to London, and always raved about the city and my encounterings to my colleagues and friends. One well-read colleague of mine suggested I should read this book. So, then on my next trip I bought this book on 2004-05-04 from a bookstore somewhere near Oxford Street or Charing Cross Road, I don't remember exactly anymore, I have only written the date on the cover page. During my two-week stay, I travelled a lot on the underground, and read the book during the trip. I still have the London Underground travel card between the pages that I used as a bookmark. They probably still use good old cardboard tickets over there, unlike here where everything is digital forgettable crap.
The book has been described as ``urban fantasy'' and it takes place in ``London Below''. I'm not going into the plot itself, but if you are a fan of the underground and places in London, you are going to love this book. The story is good with interesting characters. One of the highlights of the book is that the names of places in London are given almost a literal meaning, e.g. Blackfriars. As a tourist and non-native speaker you always wonder about those, and this book simply exploded my imagination. Also I learned about abandoned and disused underground stations, notably British Museum, so fascinating stuff.
Later I learned the book was actually a companion to the BBC produced Neverwhere (TV series). I've seen that too, but I still prefer the book.
Tuesday, 2023-11-07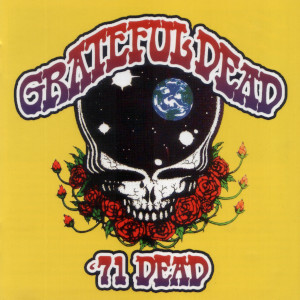 A compilation album by GRATEFUL DEAD released in 2017.
This is a box set with roughly 22 hours of music on 21 CDs, seven shows recorded in 1971:
This seems to be an ``unofficial'' release. I didn't realize that until after buying the box (apparently it's still a legal release within EU), although I was quite suprised of the low price given the volume of music. It was surely a bargain.
All shows are radio recordings. The sound and mix quality is (mostly) excellent throughout. Cannot always say if shows have been recorded from air (FM broadcasts) or from the original source tapes used when broadcasting. But on some shows you can hear the annoucer speaking over.
Discs 1 - 3 have The Fillmore East show from 2nd July. Sound is nice and good old vintage DEAD. On stage we have the relaxed 1971 band. Having only BILL KREUTZMANN on drums their sound developed into a more jazzier direction (the second drummer MICKEY HART took a break from the band during this era). With also a PIGPEN number or two in there, we get also some bluesy stuff and crowd ``party'' favourites such as Hard To Handle and Good Lovin'. On the ballad side Sing Me Back Home is always welcome. It was usual for them to end shows with some epic jamming medleys, and this time we get Not Fade Away -> Goin' Down The Road -> Not Fade Away.
With discs 4 - 6, we go to Minnesota. It's already October and PIGPEN is sick and away. But we have KEITH GODCHAUX on piano, making sound even more jazzier. The first part is full of gems. They start the show with easy going Bertha and Me And My Uncle; then a lovely Sugaree, and the magic of DEAD playing finally starts to manifest... Country/folkish Cumberland Blues is always a highlight. Tennessee Jed is surprislingly fast in tempo. Black Peter fades in and resets back to mellow mood. Jack Straw is excellent; Brown-Eyed Women likewise. Comes A Time completes the first disc nicely. Also the second disc has strong emphasis on the ballad/songwriting side, with Ramble On Rose, Me And Bobby McGee and Brokedown Palace being the highlights. The third disc is heavy on jammin' side focusing around The Other One. Still, we get also a nice ballad too, Wharf Rat, as well as couple of other ``normal''songs before the usual Not Fade Away -> Goin' Down The Road ending.
Next stop is Cincinnati, late October, discs 7 - 9. Yes, the sleeve says Cleveland but this is where bootlegs usually fail: small details and proper research. According to ``official'' sources Taft Auditorium show took place in Cincinnati. Anyway, this is a minor flaw. The music is still good. The set list is pretty predictable given the two previous shows. El Paso is the only ``new'' song we get. On the disc 7 recording is not exactly a perfect one as you can hear clitches and pops every now and then. Jack Straw is however again highly excellent...
Discs 10 - 12 have a show from San Francisco. So the band is now close to their home neighbourhood, and based on the chatter and banter they seem to be pretty relaxed and having fun. They also suffer from some technical issues so there is plenty of dead air at the beginning. Some minor tape cuts again as well. But once they start playing it's all good. The set list continues to be pretty predictable, but there's also a some kind of rarity in there as well: a FREDDIE KING instrumental Hideaway. Later in the set we get Dark Star, previously unheard on this box set. Also a bit unusual (and great!) is to hear Me And My Uncle in middle of the The Other One...
And in December PIGPEN is back! Discs 13 - 15 have a show from New York. Again the basic set keeps featuring pretty much the same stuff. But also we get rarities like when JERRY GARCIA sings I Washed My Hands In Muddy Water on the first disc (probably for the first and last time forever?). And PIGPEN gets to prove his vital signs with Big Boss Man, Mr. Charlie, Next Time You See Me, and It Hurts Me Too at least. Damn they were such a good band in those days with so many different talents and musical styles. When listening to this box set I came to find many ``new'' songs which I have been somewhat ignoring in the past. Comes A Time is such an example. Somehow I like the version from this show, although the arrangement is quite simple and almost awkwardly slow.
December continues in St. Louis with discs 16 - 18. Good times and good playing as usual but not much new to report, except a PIGPEN rarity Christmas song Run Rudolph Run. He does good job also on Good Lovin' etc. Respect!
The final show (discs 19 - 21) is the New Year's Eve show from Winterland Again the band is on semi-fire, already on the starter, Dancin' In The Street. Is that PIGPEN going wild in the middle? In any case next he's delivering a perfect Mr. Charlie next. A nice first set continues, and in the second we get Playin' In The Band and other regular stuff ("Truckin'" gets already almost boring, but we get a rockin' "Big River") to conclude with. And in the final moments we get again a ``new'' song for these shows, a nice blues number The Same Thing.
While this release is an ``unofficial'' one, it's still very nicely put together, with some nice art work and liner notes too. It's definitely not a rip off and people behind this obviously had love for the music. So nothing prevents me from recommending this to anyone liking THE DEAD. I already look forward to listen to this box set and these shows again and again...
Monday, 2023-11-06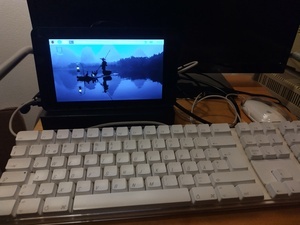 I wanted to have a small ``portable'' computer that is suitable for word processing and lightweight web browsing (e.g. online banking). I don't like laptops which are non-modular and increasingly non-repairable, so I built a prototype using Raspberry Pi and some spare and recycled items I had around. The inspiration was taken from Commodore 64 executive model that was the first luggable color computer with a small 5" monitor.
(Click the heading to read more...)
Friday, 2023-10-20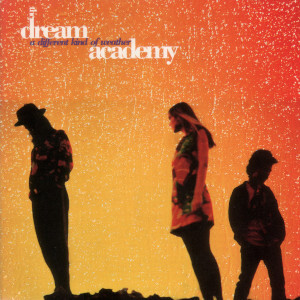 An album by THE DREAM ACADEMY released in 1990.
I got introduced to this band thanks to a PINK FLOYD connection. DAVID GILMOUR provides some production and songwriting help on the album. He also had helped the band previously on their first album (I later learned), but I think his role is bigger here. While the music is quite far from Floyd, you can definitely spot some Gilmourish sounds here and there. He also co-writes one song, Twelve-Eight Angel.
The album starts with a JOHN LENNON cover Love, driven by a drum loop and nice backing vocals by POLY STYRENE, and also Tibetan temple bells are credited. A good intro. A rockier Mercy Killing continues the theme with some familiar guitar and nice instrumental bits. Lucy September continues the uptempo mood, while Gaby Says and the railroad themed Waterloo move into a ballad territory, closing the first side of the album.
The second side starts with the already mentioned 12/8 track, poppy St. Valentine's Day has some prominent woodwinds. Then again a slow ballad, It'll Never Happen Again is a TIM HARDIN cover with some trademark Gilmour solo guitar. Forest Fire about deforestation is a political track (theme already hinted in the album title). Lowlands is the track with strongest folk music influence and you can even hear a bit of banjo. The album ends with an acoustic track Not For Second Prize, and some sampled fairground music.
The production work on album is very strong, and this is clearly a 'studio album' with lots of details, all tracks perfectly seque etc. However, songwriting is song as well and probably these songs could work in a simpler setting as well. For PINK FLOYD fanatics this album is interesting is it's a clear middle-step between A Momentary Lapse Of Reason and The Division Bell. Many of the studio musicians are familiar. Also NICK LAIRD-CLOWES would later write for PINK FLOYD.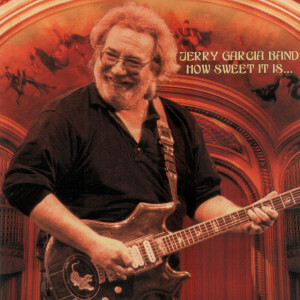 A live album by JERRY GARCIA released in 1997.
One of my favourite live albums, starting from the album sleeve. Jerry is apparently happy, with his cool guitar, and on the background you can see some classy details (albeit slightly fuzzed) of a legendary venue, the Warfield Theatre in San Francisco. Never been there except in my dreams. Liner notes describe nicely the mood of these gigs: ``Deadheads used to say [...] Warfield was like going to church.'' A minor nit about the liner notes is that recording dates are not documented other than saying they are from the year 1990.
The recording and production is first class. The sound is warm and the ambience, sense of space is just amazing. There is a picture of the band on stage in the sleeve notes (also the band members are listed in the same order). When putting the headphones on, pressing play and turning the volume up on the hi-fi, the band is right there in front of you, just like pictured.
Finally there are the songs. Most of them are covers, with two songs from BOB DYLAN. The only Garcia/Hunter songs featured here are from his solo albums and never played by the GRATEFUL DEAD. Cover material was always a major part of Garcia shows (in Dead shows too, but to a lesser extent). Liner notes explain how the set list was selected not only by Jerry 'the guitar player' but also by Jerry 'the music listener'. Some of the songs could be also seen as 'autobiographical' (similarly how ELVIS PRESLEY picked some songs during his last years). Later it's been well documented how being frequently on the road took its toll on his health. Like A Road could be seen almost like a cry for help.
But Jerry was the man of music and didn't turn back. He played to the end. This is good stuff.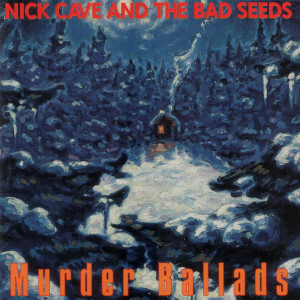 An album by NICK CAVE released in 1996.
I guess this was the album that really made him mainstream. Before this, I knew his name, but the only work by him I was aware of was just the Helpless cover he did on The Bridge - A Tribute To Neil Young. It wasn't until Murder Ballads I became a true fan. The songs with KYLIE MINOGUE and PJ HARVEY were playing everywhere, and you just couldn't miss this album back in the day. I was watching a lot of MTV back then.
While the hit duets on the record are good, it is the Song Of Joy that makes this album worthwhile. Starting like a classic gothic horror story, a stranger enters a house and starts to tell a story about his murdered family. While it's explicitly never said, it soon becomes apparent who the killer is. Also what happens after the story ends. One's imagination starts filling the gaps. Classic horror fiction.
Many songs of the album are based on folk songs and stories. Some of them are well known like Stagger Lee. However Cave's versions are unique and heavily rewritten and reinterpreted. The final song is a BOB DYLAN cover Death Is Not The End.
Map
Lists
[Records] [Bootlegs] [Movies] [Books]
Contact
Send e-mail to Aaro Koskinen <aaro.koskinen@iki.fi> or leave a note at Bitwoods RBBS-PC.
---
Last updated: 2023-11-21 10:36 (EET)