How Sweet It Is...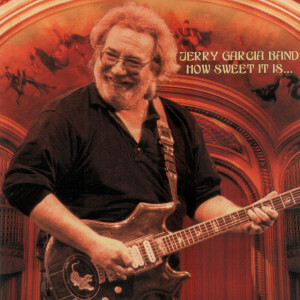 A live album by JERRY GARCIA released in 1997.
One of my favourite live albums, starting from the album sleeve. Jerry is apparently happy, with his cool guitar, and on the background you can see some classy details (albeit slightly fuzzed) of a legendary venue, the Warfield Theatre in San Francisco. Never been there except in my dreams. Liner notes describe nicely the mood of these gigs: ``Deadheads used to say [...] Warfield was like going to church.'' A minor nit about the liner notes is that recording dates are not documented other than saying they are from the year 1990.
The recording and production is first class. The sound is warm and the ambience, sense of space is just amazing. There is a picture of the band on stage in the sleeve notes (also the band members are listed in the same order). When putting the headphones on, pressing play and turning the volume up on the hi-fi, the band is right there in front of you, just like pictured.
Finally there are the songs. Most of them are covers, with two songs from BOB DYLAN. The only Garcia/Hunter songs featured here are from his solo albums and never played by the GRATEFUL DEAD. Cover material was always a major part of Garcia shows (in Dead shows too, but to a lesser extent). Liner notes explain how the set list was selected not only by Jerry 'the guitar player' but also by Jerry 'the music listener'. Some of the songs could be also seen as 'autobiographical' (similarly how ELVIS PRESLEY picked some songs during his last years). Later it's been well documented how being frequently on the road took its toll on his health. Like A Road could be seen almost like a cry for help.
But Jerry was the man of music and didn't turn back. He played to the end. This is good stuff.
---
Last updated: 2023-11-17 14:41 (EET)