Who's Better, Who's Best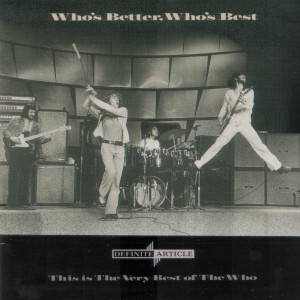 A compilation album by THE WHO released in 1988.
My first proper introduction to THE WHO was this compilation album some time in the late 1980s or early 1990s. I was listening mostly to PINK FLOYD and LED ZEPPELIN, and wanted to check out some other legendary 1970s bands as well. I absolutely fell in love with the band's songs and sound, and kept playing this album over and over for weeks.
Some time after I was an aspiring record collector and a musical highbrow who thought that all compilations are crap and one should listen to the full original albums only. Which I did. And I after getting all their proper albums, I sold away this compilation...
While THE WHO made a couple pretty damn strong albums (notably Tommy, Quadrophenia and "Who's Next"), you still have to admit that they were a ``singles band'' as well (I wanted to say ``mostly'', but I don't want to upset PETE TOWNSHEND unnecessarily). And for such bands ``greatest hits'' compilations such as this are justified. Which is why I rebought this album couple decades after, and now listen it to probably more than any other THE WHO record. Not a single bad or filler song in there. And you have to respect the production, editing and mastering work on this compilation as well - it sounds a real solid piece of work and you won't even notice the recordings date from three different decades.
This is the very best of THE WHO.
---
Last updated: 2023-11-17 14:41 (EET)